all re-posts - trying to get rid of the last of my plugs that are too small. every pair is now $5! 9 pairs of 1", 2 pairs of 7/8", and 1 pair of 3/4".

shipping will be $3 to the US, whether you buy one pair or ten. let me know if you live elsewhere.



will trade for plugs in these sizes: 1-1/4" - 2". will also trade from my general selling lj
run_2_the_hills for jewelry in these sizes also.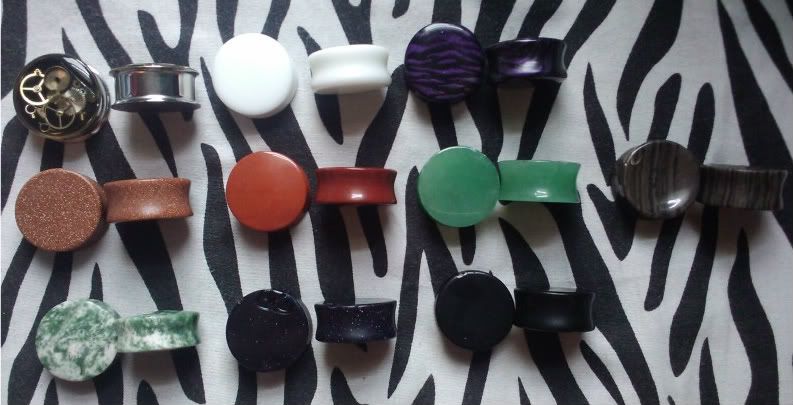 1" :
df time travel plugs - bmamodified resin filled watch parts in steel eyelets (these plugs are great except the resin at the back is a little sloppy looking) $15
df white stone $5
1" df purple zebra acrylic - these are on the smaller side of 1" $5
df red goldstone
mis-matched df red jasper (one is darker than the other) $5 or free with purchase
df aventurine $5
1" fossil-something stone
df green/white stone $5
df chipped blue goldstone $5 or free with purchase
df black stone - tiny chip on one edge that shouldnt affect wearable $5



1" :
df black wood - these are on the smaller side of 1"
omerica df side hearts - holly wood inlay in pink ivory wood
onetribe aztec carved flower ebony df - seconds - there are a few cracks in the wood on the wearable, didnt affect my wearing them - $15
df teak wood $5
df wood tunnels - these are on the smaller side of 1" $5
df black wood - these are on the smaller side of 1" $5
df silver tunnels $5
sf clear glass tunnels
red kaos eyelets - $15




7/8" :
bare bones dark raintree wood rings
sf lavender glass plugs
df azurite stone $5
df red leopard acrylic $5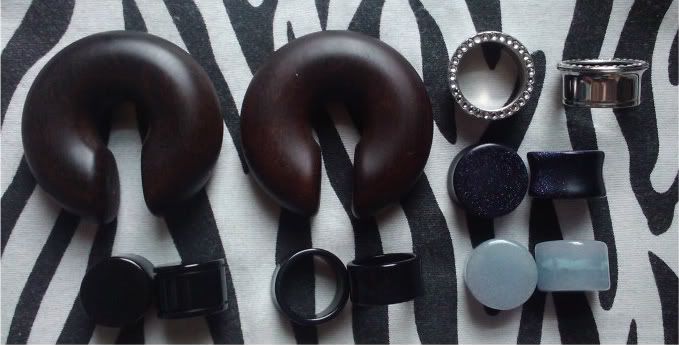 3/4" :
pauls plugs burnt maple rings
sf bling eyelets
df blue goldstone
nf black grooved acrylic
black acrylic tunnels $5
nf light blue/lavender acrylic